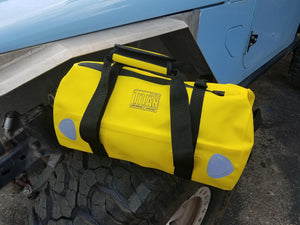 Out of stock! The shout-out from Fred Williams, on his Dirt Daily, cleaned out the last of my inventory of the Yellow Titan Tool Bags. We will be gearing up for another run in a new color scheme for later this year. Please drop us a note with what your choice in color would be! 

Titan Tool Bag. Constructed using stitch-less welded seams similar to commercial dive equipment with tough waterproof 1000D TPU ( Thermoplastic Polyurethane ) material. These are the perfect size for your trail tool kit, spare part bag, spill kit, or recovery gear.
Features-
-The main handles wrap all the way around the bag to help support heavy loads.
-Twin adjustable compression straps help eliminate dead space and rattles
-The grab handles on each end help when pulling them out from storage and are strong enough to secure the bag if needed.
- Four reflective patches to help locate the bag at night
- A 2x4 'fuzzy' Velcro patch provides a convenient location for identification tags
-The large tooth industrial weatherproof zipper provides long life in tough gritty conditions. A large zipper toggle and pull tab provide purchase with cold wet fingers.
-Dimensions: 16" long x 8" wide x 8" tall ( D-shape profile )
-Capacity: 15L
Notes:
-Shipping and Handling included in price.
-I don't recommend storing your knife collection inside one if you want to keep the water out. Keeping sharp objects like screwdrivers, picks, and awls separated inside will make the bag last longer.
-The bag, to the zipper line, is waterproof, but the zipper and it's 'garage' are only water-resistant. You can use this bag to haul water in an emergency, but please do not store in a lake. These bags can develop condensation on the inside with temperature and humidity changes. Let them breath out to keep the funk out when possible.
-Please do not use as a tow strap