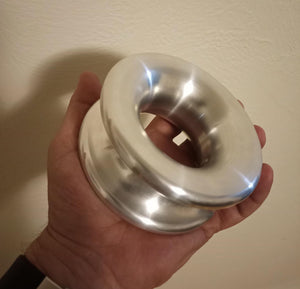 All you wanted was just one of our amazing new Recovery Rings, Here you go! The number one request after releasing the new Recovery Ring Package was being able to buy the ring separately, so I made that happen. You are not going to find a higher quality ring on the market at this price point! On Sale till the end of the year. 
This low friction Recovery Ring is a custom CNC manufactured from 6061-T6 aluminum with a polished finish and a light bee's wax protective coating . This ring is not your typical small ring. This is 4.5" in diameter and 2" thick! This part has a Working Load Limit in excess of 25,000lbs and an average minimum breaking strength above 120,000lbs. This new ring has been designed with every critical detail such as a better working radius for up to 5/8" winch lines, a 'self-balancing' loaded radius, and softer edge radii on all corners. 

This low friction ring concept has been around for a long time in the competitive sailing world and was widely adopted by the arborist industry shortly after. This concept works perfectly in the recreational off-road market where low weight high strength synthetic winch lines are becoming very common. The low friction recovery ring is intended to replace the traditional heavy and cumbersome steel sheave block or snatch block concept with a lighter safer alternative.
A traditional steel snatch block usually weighs 6-8lbs in the recreational off-road market. In contrast the recovery ring weighs only 1.4 lbs while including a completely closed connection to the anchor point. Even if the low friction ring was to fail, the working and anchor lines create a closed system to increase safety.
Why isn't the Recovery Ring coated or anodized? The short version is that it shouldn't be. The lowest friction between UHMWPE and the ring will be with a polished aluminum surface. Anodizing and laser etching can produce a textured surface that ends up being on critical surface areas, not to mention adding a significant amount of cost. You can feel those micro imperfections with your finger. The polished aluminum surface will provide a longer life for the synthetic rigging, and is also the easiest to repair over the life of the device. If the device suffers a ding during use, it can easily be repaired using a small fine file and polished. This device is not going to live its entire life static out in the elements. Most of it's life will be sitting in the included protective case safely tucked away waiting for when it can help save your day. The only required maintenance is a dunk in clean water along with a physical 'touch' inspection for any dings, finally a light wipe down with some good quality car wax.
Price includes ground shipping in the USA, typically USPS Priority flat rate with insurance.
Just a reminder, this ring is also available as part of a complete package with our Anti-Tip Block, Soft shackle, and a storage bag for an amazing combo price here. 
https://brennans-garage.com/products/snatch-ring-package