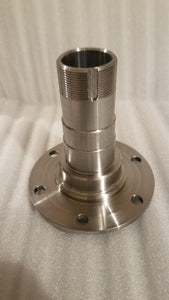 Brand New Late Model Dana 30 spindle designed to pass a 30-spline shaft ( and sealing surface ) with a monster 1.325" bore!
These all new construction spindles are CNC turned to exacting standards by USA craftsman to provide the best product possible for years of service in your classic Jeep. These spindles use the later open knuckle design with the larger inner wheel bearing for increased strength with the larger bore. The keyway has been cut shallow to allow the increase in bore. The only modification to the standard wheel bearing and spindle nut package required with this spindle is grinding down the anti-rotation tab on the spindle washers.

The increased bore size with this spindle allows passing a 30-spline Dana 44 size shaft through the spindle from the outside. In rear full-float applications on early Jeeps ( and Roxors! ) this allows using a flanged full float axle shaft to completely eliminate the need for a locking hub. The axle can be bolted directly to the 6-bolt bearing hub just like any 3/4 or 1-ton truck on the market. This makes for the strongest possible 30-spline full float conversion on the market. There is no more necking the axle down to 27-spline or needing to put the axle in place before the spindle. The spindle bore is also large enough to pass a 19-spline shaft from the outside for early Dana 44 ( or Roxor ) applications that have already invested in a locker or Dana 41 applications that would like to ditch their weak 10-spline shafts by using a 19-spline lunchbox locker ( yes, a Dana 44 19-spline locker will fit in your Dana 41 factory carrier ).
These spindles ( at this time ) are cut with the factory front axle 3.36X" register on the back side. This allows using them on front Dana 25/27/30 style knuckles to allow a much stronger 30-spline front stub axle. Nitro Axle is still offering the 4340 alloy AXN38248 front Dana 30/44 8.72" long 30-spline stub axle for the larger 297/760X size U-joints.
The correct bearing hub for the 6-bolt locking hub with 5 on 5.5 wheel pattern with this spindle would be a 1976-81 Jeep CJ Dana 30 with disc brakes. RAYBESTOS 4292R, Crown 5358568H, or Similar. Spindle Bearings, Spindle nuts, and Lug Studs would be for the same application. ( Don't forget that 82+ axles had weaker 5-bolt locking hubs )

These spindles can be turned down to provide a 2.875" register that will fit in the factory rear axle bearing pocket for an extra fee. Please select that option below if you would like us to handle that. Any machine shop should be able to provide this service locally.  We may be offering this as a stock option in the future, but for now, having a single part on the shelf covers all the possible options. ( Please drop us a note and let us know what you are looking for ). 
Axle Notes: The Jeep bearing hub uses a 6 on 3.4375" bolt pattern. Hardware is 3/8 diameter. I suggest using a 25/64 hole. A 4.10" flange diameter works well. The entire axle shaft needs to be turned down to spline major diameter (~1.29") in order to pass through and give clearance in the spindle ( as some forging blanks are too large un-machined )
If you are building a full float rear axle and need a bit of extra width to match a Dana 30 Narrow Track, or even a Roxor Dana 44, front axle, I suggest using a spindle spacer. I have built these in the past for my personal projects and will be adding them to the lineup soon. Please let me know if this is something you would be interested in.
If you need help with sourcing axle shafts for your project please reach out and let us know.
Pricing listed is EACH ( this allows for easy replacement if you happen to damage one )

Price includes ground shipping with insurance.
Note: These are run in batches to keep cost manageable. We will be trying to keep these on the shelf going forward to better support the Jeep community, but depending on sales you may end up between a batch. If this happens we will try and keep you updated on what the delivery time-frame will be.